MyLO Manager is being Updated 16th of January
---
On the 16th of January, MyLO Manager is being updated. There will be an outage from 4:30 PM AEDT until 5:30 PM AEDT.
This update will include some new features and functionality, while still allowing you to create your units, add staff and students and edit dates as needed.
The updated interface has a new look and feel and adapts responsively to different device sizes. The tiles will transfer images from your units in MyLO to make the system look visually appealing. Below is an image of the homepage with a list of the changes you will see.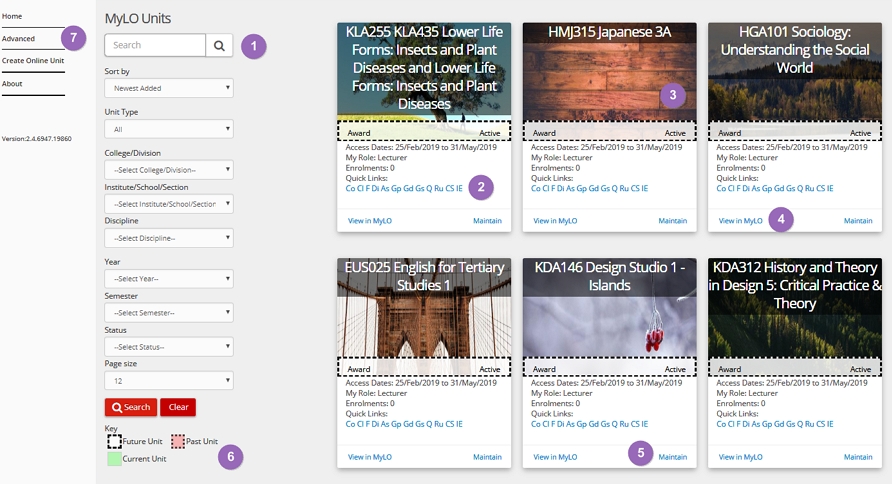 Search for units you have access to. There are several filters you can use to minimise your results- such as searching by College/School/Semester
You can save yourself time by pressing on one of the Quicklinks to take you to that specific tool within your unit. Hovering over each Quicklink will guide you as to the tool( Co = Content   Cl = Classlist   F = File Manager   Di = Discussions   As = Assignments   Gp = Groups   Gd = Grades   Gs = Grades Settings   Q = Quizzes   Ru = Rubrics   CS = Classlist Settings   IE = Import/Export Components).
The image you have chosen for your unit in MyLO will appear in MyLO Manager, once you have accessed the unit from within MyLO Manager.
Press View in MyLO to take you to the unit directly.
Press Maintain to update start and end dates, add staff or students to your unit.
A key to show you the types of units you will see – Future units – created but not yet live for students, Current and Past.
You can change your MyLO Manager view to be a list view  if you have many units, or prefer this view.
When creating or maintaining your units you will see a new column appear on the Staff tab called MyMedia Instructor.

Here you can select who in your unit is the primary instructor within MyMedia ( who owns the recording) and who else has access to the recording to share and edit it. We will confirm when you are able to commence using this functionality.
---